Presentation Skills for Leaders
20% of people would rather visit the dentist than sit through a presentation.
Training overview
Presentations can be a key opportunity for a leader to demonstrate credibility and build influence.
On this course participants will:
Examine the advantages and limitations of different methods of presenting
Develop understanding of the need for knowledge of audience and their expectations
Explore the need for a contingency plan
Develop awareness and practise physical attributes (voice projection, stance, eye contact, body language)
Analyse issues relating to clarity in language
Explore techniques to ensure timeframes are adhered to
Use templates to assist with planning a presentation
Explore creative ways of engaging the audience
Examine strategies for dealing with a range of audience questions
Look at ways of gaining and acting upon feedback
By the end of the course participants will:
Understand the principles relating to effective delivery of presentations, so that audience expectations are met
Be better able to employ a wider range of engaging presentation strategies
Be able to implement effective feedback systems
Who will benefit from this training?
New and existing leaders at all levels (executive, senior, middle and aspiring).
Training format
This training can be delivered face-to-face or live online via Zoom. A variety of training resources will be used to engage and challenge participants.
Duration: 3 hours (can be 2 x 1.5 hours if live online)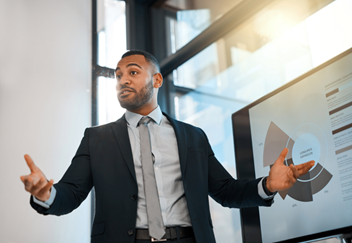 Please contact us for further information as to how we can deliver training at your school.