Developing effectiveness of middle leaders
Who is this course for:
Middle leaders (or aspiring middle leaders); primary or secondary. e.g. department heads, subject coordinators, key stage coordinators, heads of year etc.
Course details:
A programme will be put together according to the individual school needs, aims and prior experience of attendees, comprising one or more of the three areas below: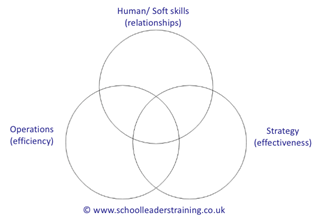 Soft/ human leadership skills: Running effective meetings, building teams, motivation and getting the best out of others, having tough conversations, appreciating, listening, building trust, building positive relationships with other staff and parents. Also the tension between line management versus collegiality.
Efficiency: Time/ task management techniques for those who both teach and lead. Many middle leaders find this very useful.
Effectiveness: Knowledge and evidence across the area of responsibility regarding - how well pupils learn, quality of work over time, pupils' attainment, pupils' progress, achievement of different groups (SEND, gender, EAL etc.), consistent excellent teaching, consistent high expectations in T+L, developing teacher knowledge and skills, CPD, appraisal, use of resources, formative and summative assessment, planning and implementation (according to pupils' differing needs), marking and feedback, pupil voice, appropriate documentation, target setting, curriculum breadth and balance, cross curricular links, mastery, monitoring, tracking and analysis and learning environment. 
Course format:
This training can be delivered in-school as a training day or as a number of after-school twilight sessions. Please contact us to discuss your requirements.

What delegates have said:
"The training session was extremely useful; it was well delivered and the trainer really knew his stuff! In particular he was able to engage all the staff present, no matter their level of experience. Everyone felt they had grown in confidence and capacity as a result of the session and found it reassuring that the trainer had first-hand experience of dealing with the issues raised. Richard is a most professional and personable speaker and we look forward to working with him again in the future."